T
apping into your "beyond hours" – I first heard the term "beyond" hours used to describe Mark Wahlberg, and his commitment to the film, The Fighter. "It was tough", Wahlberg said in the article. "Going out and making another movie and still continuing to train for something that may not happen is not an easy thing to do. We're shooting 12 to 14 hours a day on one movie and I'm getting up 2 hours earlier than normal so I can train." To Wahlberg and others like him, beyond hours are the "hours that ignore what's expected and acknowledge what's necessary." They are the price Joe Lewis was referring to when he said, "Everybody wants to go to Heaven, but nobody wants to die."
Kirk Ferentz may be the dean of Big Ten football coaches now, but in his first term, the 1999 University of Iowa Hawkeyes went 0-8 in the conference. It must have been a pretty lonely off-season, with Kirk traveling only by night, and avoiding comedy clubs.
But with the dawn of a new campaign, Kirk came armed with two fresh weapons – a big boulder and an accompanying slogan, "beat the rock." Kirk told his puzzled athletes that the rock symbolized the struggle necessary to become a championship level program. "Breaking the rock", Kirk asserted, "is not something that happens easily or overnight. Rather it takes months, perhaps even years, of hard work – chiseling a way bit by bit. While I can't tell you when it will happen," he said, "I promise if you do that, it will."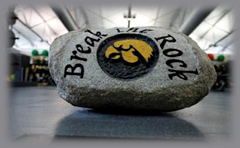 The rock was finally broken in 2002 when the Hawkeyes swept through the Big Ten Conference schedule with an undefeated record of 8 wins and no losses. The Big Ten Champions had an Iowa best eleven Hawkeyes honored as First-Team All-Big Ten selections. In a symbolic gesture, Kirk had the boulder removed from the football facility and shattered into hundreds of pieces. He not only gave a stone to each of his current players, but all the athletes who had labored on that rock before them.
The world is littered with talented people who didn't put in the hours, who didn't persist, who gave up too early, who thought they could ride on talent alone. Meanwhile, people who might have less talent pass them by. Beethoven wrote 60 to 70 drafts of a single phrase of music. Hall of Famer, Ted Williams hit practice pitches until his hands bled.
What rock are you trying to break?