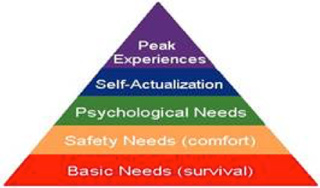 Abraham Maslow's Hierarchy of Needs - Many of you are familiar with Abraham Maslow's hierarchy of needs: Often portrayed in the shape of a pyramid, with the largest and most fundamental levels of needs at the bottom, and the need for self-actualization at the top.
Interestingly, later in life Maslow wanted to take this hierarchy for the individual and apply it to the collective, to organizations and specifically to business. But unfortunately, he died prematurely in 1970.
The idea has never the less taken hold in some of the most innovative companies. One example is Zappos. Zappos' CEO, Tony Hsieh has drawn the parallel between business and happiness, and integrated it into the culture of his company.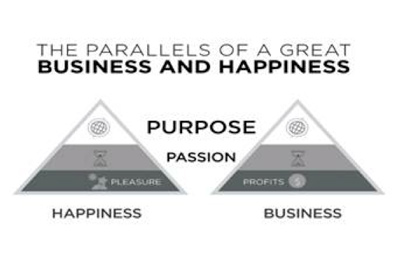 "So many people when they go to the office, they leave a little bit of themselves at home, or a lot of themselves at home," he says. "And while there's been a lot of talk over the years about work life separation or work life balance, our whole thing is about work life integration. Because it's just life – and the ideal would be if you can be the same person at home as you are in the office and vice versa." - Zappos' CEO, Tony Hsieh
The company's annually published Culture Book contains hundreds of short essays written by Zappos employees and vendors explaining what makes the culture so special and successful. Says Hsieh: "Corporate culture is every bit as important as the bottom line."
Martin Seligman (University of Pennsylvania), has identified three different happy lives that correspond to these three desires:
The "Pleasant Life" – A life full of positive emotions about the past, present, and future.
The "Good Life" – Using your "signature strengths" to achieve gratification in the main areas of your life.
The "Meaningful Life" - Knowing what your highest strengths are and deploying them in the service of something larger than you are