F
aced with a senior design project, Avery Bang and four of her civil/environmental engineering classmates proposed a radical idea to their professors: "What if we actually built something?" As Avery says now, "To see a project from concept to implementation was not an experience I had ever had, and I was about to graduate as an engineer." What Avery and her fellow students had in mind was to design and build a footbridge near the rural community of Yavina, Peru. To a population cut off from the only school, healthcare facility, and marketplace, this proposal promised profound change.
Now the Executive Director at Bridges to Prosperity, Avery understands just how important that early decision was to her professional trajectory. "It was the first time I realized that I could have a team outside of sports", Avery recalls. "That I could rely on people. I had these four individuals who would do anything for me, and I for them, in a setting where we were moving towards a common good."
While smart corporations rightly identify ingenuity as their most precious commodity, far too often higher education is stuck in an old Industrial Age model that rewards students with the best memories and bubble sheet exams. But the good news is that it doesn't have to be that way.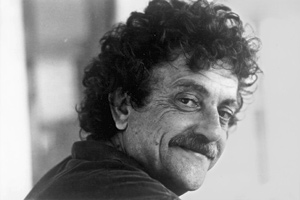 The great Kurt Vonnegut, author of such classic works of literature as Slaughterhouse-Five and Cat's Cradle, understood the spirit of a true academic adventure. Addressing his 1965 class as "Beloved," Vonnegut described the twist and turns their inquiry together might take. "As was said to me years ago by a dear, dear friend," Vonnegut wrote on the course syllabus, "Keep your hat on. We may end up miles from here."
While 20 somethings have a unique generational "voice" to offer society, a lack of opportunity, resources, and experience often holds them back. This is a loss on both sides. Not only do our cities and communities need their energy and idealism, but young adults need mentored opportunities to start constructing their contributions as well.
Young people also have the capacity to dream BIG! While frequently dismissed as youthful innocence, those who find a way to protect that fragile quality often make the greatest difference in the end.