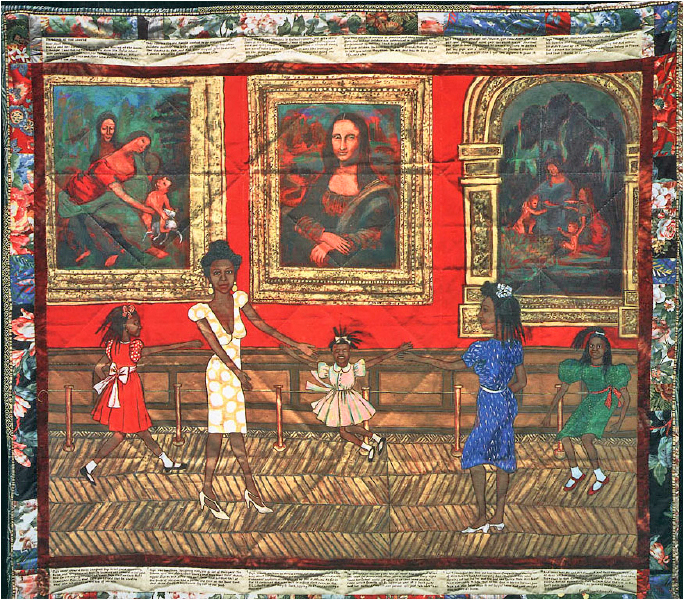 permission pending
Faith Ringgold (1930 ) "Dancing at the Louvre," Acrylic on Canvas 1991
Partial text from quilt (continued from sketch):
4 Now that Marcia is married to Maurice, and they have moved to Paris, she and her children are determined to speak le bon Francais parfaitement by morning. I had to put her straight about me and the children. You know how it is with friends, they all want to tell you whom they think you are and how to live your life, and why.
5 Well I told her straight out, "Marcia, you know damn good and well your papa never went past the third grade." And that was good in those days, 'cause he wasn't supposed to do that. But my papa was a school principal. He finished Lincoln Academy in Lynnsville. And I got the diploma to prove it.
6 Papa taught in Florida, South Carolina, and Georgia. I got all his licenses and test scores. Papa and Mama was both teachers. We didn't come up like no weeds. Not saying she did either. But I resent her telling me that my children belong in France. And that I should be raising them, not you.
7 Papa never allowed those Campbell boys in our yard. Chauncey, Buba, and Percy, none of Marcia's brothers was allowed in our yard. Now I'm not saying he was right 'cause Papa, etait un snob. But I remember Papa, in that little pinstriped coat he used to wear and his glasses on the end of his nose.
8 Papa was something. "No, young man, you go out of this yard. The Simone girls are doing their chores and they have their studies, supper and to bed. Allez vous en!" then he'd hit that tail at the back of his coat like a period and turn at the same time. And those Campbell boys would fly out of our yard.
9 Papa wasn't too keen on Marcia either, but she always had a little way about her, like she thought she was tres chic. Marcia doesn't remember any thing about growing up poor in Atlanta. As far as she is concerned she was born in a first class cabin on the S.S. Liberte on her way to Paris, sipping Moet and smoking a Gauloise.
10 You should hear the story she told us about how she used to set the table for dinner with silver service and cristal every night 'cause her father would get upset if he came home and the table wasn't formally set for supper. We were at a Paris party and her husband, Maurice, was present so I just "uh-uh'd" her.
11 But I remember the time we saw those Campbell boys coming out of Miss Baker's back door carrying food. They said they were cleaning out her ice box and the food was spoiled. Then Miss Baker came over crying to Papa that all the food in her ice box was gone. Papa sat Miss Baker down to our supper table and went straight over to Marcia's house.
12 And there was Mr. and Mrs. Campbell, and their three sons sitting at their kitchen table in the dark eating Miss Baker's food. When Papa came in they started coughing and gagging. They almost choked. But not Mademoiselle Marcia. Papa said she was on the back porch nursing un cristal de limonade and reading Madame Bovary. (129 - 130)
From: Cameron, Dan et al. Faith Ringgold's French Collection and Other Story Quilts - Dancing at the Louvre. University of California Press : Berkeley, California, 1998, 93.