Welcome to kenneth-tse.com!
Kenneth Tse is a concert saxophonist and Professor of Saxophone at the
University of Iowa
.
For concert and master class booking, please contact
Ms. Winnie Chiu
NEWS:
New video added in
MediaLIVE!
page.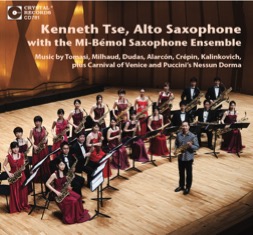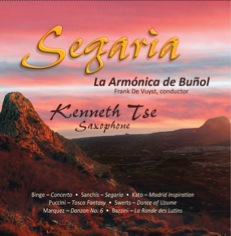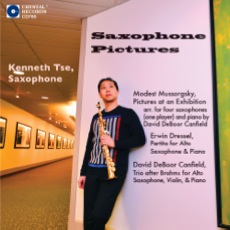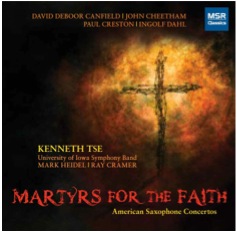 CD781 — KENNETH TSE, Saxophone, with the MI-BÉMOL Saxophone Ensemble.
UPC 009414778123
Jules Demersseman, Carnival of Venice; Henri Tomasi, Ballade; Richard Dudas, Fantasia on Lyun Joon Kim's Elegy; Luis Alarcón, Concertango, 3rd mvt: fugue; Alain Crépin, Saxflight; Grigorij Markovich, Concerto Capriccio on Themes of Paganini; Darius Milhaud, Scaramouche; Giacomo Puccini, Nessun Dorma from Turandot.
A truly unusual and exciting album. The sounds of all the saxophones is almost unbelievable in its beauty. At times it is like listening to one of the best large symphony orchestras.
"This release is, in a word, stunning. [This is] a program of winners, with broad appeal. It doesn't get much better than this: fun music, and a stellar ensemble and soloist."
(Fanfare Magazine)
ORDER NOW
Kenneth Tse,
with 7 solo CDs on Crystal, is one of the world's leading classical saxophonists. Born in Hong Kong, he won the New York Artists International Award in 1996 and performed an acclaimed debut recital at Carnegie Hall, after which he was hailed as
"a young virtuoso."
He since has been a frequent soloist on five continents. His CDs have been uniformly acclaimed by critics:
"elegant tone...sheer virtuosity"
(American Record Guide).
"phenomenal saxophonist with incredible technical skills and interpretive skills. His tone is absolutely lovely."
(Saxophone Journal).
"One of the world's very finest saxophonists...astounding technical skill...virtuosity and golden tone."
(Fanfare) He currently teaches at the University of Iowa.
The Mi-Bémol Saxophone Ensemble,
founded in 1989 in Japan, has established itself as probably the world's premiere professional saxophone ensemble. Under the direction of Masahiro Maeda, the group has more than 20 saxophones, including alto, tenor, baritone, bass saxophone, and tubax. With its truly amazing sound, the ensemble performs regularly in Europe, Asia, and North America, including Carnegie Hall.
"Mi-Bémol has become well-known for its extraordinary musicianship and the distinctively rich, articulate orchestral sound it produces."
(Fanfare)