John Bryce "Smokey" Wood
The Houston Hipster
1918 -1975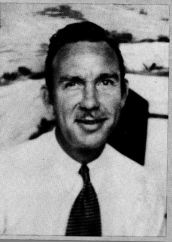 Smokey Wood
The Houston Hipster – Western Swing 1937
Rambler 107
Liner notes written by Marty Pahls and Jeff Richardson, copyright, 1982
Transcribe by Jason A. Wolcott, 2001
Smokey Wood was the original Texas underground musical outlaw. Long before Willie Nelson came down the pike, Smokey was shouting blues vocals, pumping kick-ass swing piano, and puffing all the weed that the Lone Star State could supply. But Smokey lived the life he sang about – lived it in dingy beer joints and one-lung radio stations, far from the networks and international promoters. While a later breed of urban cowboy would make it big in the media, Wood, under a cloud of friendly, fragrant smoke, just faded away into obscurity.
Today the Smokey Wood legend lives on in the handful of records he made – sixteen of them presented together here for the first time – and the still-sharp memories of the men who played with him, back when they and their hot string band jazz were all very young. They recall his love for Fats Waller's music, his hunger for the spotlight, his inclination to vanish off a gig after one night (or one hour), and his talent for walking away from sticky situations (generally of his own creation) in other people's clothes. They remember his cons, his hustles, his characteristic stoned-out laugh – pianist Sock Underwood calls it a "snigger" – and they remember them with an affection that matches their affection for his commanding jazz ability. "I never seen him on a bad kick," says mandolinist Leo Raley. Underwood simply sums him up as "a character's character."
John Bryce Wood was born September 16, 1918, at Harrison, Arkansas, son of Zack and Maude (Hudgins) Wood. The Smokey Wood legends begin with his family: that his father was a railroad engineer, his mother a piano player (who presumably started her son on the keyboard), his brother Gordon an iterant Bible-thumping preacher. What seems certain is that he grew up in Oklahoma and burst on the Houston music scene in 1935.
"Everybody was on a panic," recalls mandolinist Leo Raley. Depression buffeted the town like a hot Texas wind, and it was tough for a young jazz-oriented musician to get started. "We started off playing the beer joints out of Houston," says Leo's guitar-playing brother Randall. "We got $1 a night and our tips."
Ironically, what held the hip but hungry Houston musicians back was their musical eclecticism. Fiddler Buddy Ray, then 17, names off his compadres' influences : "Basie, Joe Williams, Teddy Wilson, Benny Goodman, Duke, Lunceford, Billie Holiday – blues, hoedowns, and Stephen Foster.
"The union wouldn't let us in," says Buddy, "because there was just two kinds of music: that was hillbilly and pop, and we were in the hillbilly category. We had a string band and played some hillbilly music. We didn't play in clubs or anything. The bands all had radio programs in the daytime, and then we'd leave town in the afternoons. We booked out about two weeks ahead all the time, and then announced it on the radio programs."
Radio was the coming thing, and could be an effective entrée for an ambitious out-of-towner. "I had a band by the name of the Oklahoma Playboys," Smokey wrote years later, "brought here from Muskogee, Oklahoma, 1935. Relinquished my time on KXYZ radio to Cliff Bruner and the Texas Wanderers. Hezzie Bryant (bass) and myself merged with Leon Selph, Charles Keeshan, Floyd Tillman, and called the band Blue Ridge Playboys. Enjoyed about nine or ten months of good music fellowship. Decided to reorganize on my own. So started the Georgia Flyers, a commonwealth group. I served to tender some leadership with the aid of a very congenial personnel.
"We moved to radio station KTRH, where, at the suggestion of Harry Greer, station manager, we changed to Modern Mountaineers." And where, recalls Buddy Ray, Smokey's congeniality – and need for weed – overcame his leadership. He would "pop it right there on the stand – it didn't make no difference where they were. They'd buy that stuff by the pound, two pounds, whatever. Even grew some for ahile there. Between the signboards right off Main Street in Houston, Texas. Had about twenty, thirty stalks growing."
Ace fiddler J.R. Chatwell came over to the new group, brining bassist Rip Ramsey, who was doubly useful because he owned a 1931 Model A Ford. When the band finally earned the distinction of its own Pierce Arrow bus, it became a roost for Smokey. Sock Underwood, who eventually replaced him on piano and vocals says, "He'd stay high all the time – sleep in the bus and spend his money on pot."
"Wood brought Hal Herbert around," says Chatwell. Herbert's dry, fat tenor sax sound caught everyone's ear – particularly since it was coming from a "hillbilly" band. Hal attributes "my reedy tone" to "that old sax I had. It was hanging up in a chicken house. I washed the chicken mess off that thing and I never had a case for it." While J.R.'s approach frequently recalled Joe Venuti, Herbert's sax favorite was Chu Berry, and he also like Johnny Hodges and Fats Waller's tenorman, Gene Sedric.
The personnel was filled out by J.C. Way, a little heralded but satisfying steel guitarist from Shawnee, Oklahoma, who was tight with Smokey, and left-handed guitarist Lefty Groves, who was not. "If Smokey got out of line with his uppity ways," says Sock Underwood, "Lefty let him know who he was."
The mountaineers were a band that, in Leo Raley's words "blowed and goed." Smokey and his reefer were matched by the rest of the outfit's thirst. "We drank anything they put out." says Herbert.
At this point – early 1937 – the rowdy young band's fortunes took a sudden upswing. "Bill Boyd came from Dallas," Smokey wrote, "heard the band, and booked us for recordings." To fit the company's schedule, the session was held in San Antonio; to avoid payment for copywrited tunes, the Mountaineers were asked to generate their own material. Some of the songs were Smokey originals without a doubt; others seem to have been written by Babe Fritsch, the combo's radio announcer. In the absence of lead sheets filed in Washington, who wrote what will probably always a source of speculation. Beyond question is the enthusiasm, swing, and good-time feel that Wood and his cohorts put into every groove.
Contrasting with the Mountaineers' otherwise total commitment to jazz and to Smokey's starring role, is the lovely "Mississippi Sandman," with Hawaiian underpinnings by Way and a disarming period ballad treatment by vocalist Herbert. Hal says Babe Fritsch wrote "Sandman" for sure; also "everybody's Truckin'." "That kinda got knocked off the juke boxes," he says. "Somebody wasn't saying 'Truckin'. Ever listen close? That Smokey – I tell you, he was crazy."
'Dirty Dog', " which features Herbert's growling clarinet, reflects the Mountaineers' high-living approach, while Smokey's love for Fats Waller's singing is rarely evidenced more than in "Drifting Along." The jazzman's (and record company accountant's) delight in basing a new tune on the chords of a well-worn standard are exemplified by "Who Calls You Sweet Mama Now?" and "Loud Mouth." (Try scatting "Alice Blue Gown" and "Honeysuckle Rose" along with the record. A listen to the 1936 pop hit "Cross Patch" may also prove interesting: it seems to have interested Smokey.)
The recording session was the high point of Smokey's association with this incarnation of the Modern Mountaineers. "He talked and sang through his nose," is the way Sock Underwood puts it, and this aspect of the records bothered Roy Thames, the group's business representative. Roy's brother Joe played banjo with Cliff Bruner. "When Joe heard Smokey's records," says Sock, he said, "Shit, he can't sing!" He was thinking in terms of Dickie McBride or Milton Brown." Joe sent his friend Sock over to Roy, who hired him as the Mountaineers' vocalist, but "Smokey didn't want any competition. Because Lefty Groves didn't sing – no one in the band except him sang. Well, that killed his soul.
"He hated me for that. And I returned it. I didn't know how I was going to cope with this maniac. He played pretty good, but he thought I was something awful. I sang him a song called "Come Be Cairo Pennywinkle Plumdoodle Rattat Bottle Will You Comey-O" . . . He didn't dig it, you know? He thought I was cornball. When I went to work as the singer, I didn't play anything. But when he'd get mad and leave the piano, I'd sit down and play it. So he finally quit – I finally run him off. I was stealin' his thunder."
The Modern Mountaineers continued without Smokey, lasting, says Chatwell, "about two years – we had a better band than Bruner, but they made money." Sock Underwood claims that later sessions under the Modern Mountaineers name were studio pick-up groups. He also offers an alternate explanation for Smokey's precipitous exit from his former starring vehicle: he immediately got a gig in a filling station (one of the few full-blown day jobs Wood is on records holding down) which also fueled employees and customers alike with Prince Albert cans of tea.
Fortunately, somebody up there in the record-company offices did like Smokey's playing and singing, enough to offer him a ten-cut session in Dallas on September 12, 1937. Smokey took J.C. Way with him, but whether the other Wood Chips were a local Dallas band or a touring combo from some other part of the Southwest has not yet been run to earth. At any rate, , they're a rough but exciting bunch who compliment perfectly Smokey's second helping of blues, jive, pop and updated Stephen Foster-style nostalgia. (As if ol' Smokey gave a poke about growin' corn and taters!)
Authentically close to the singer's blues-loving heart is Jimmie Rodgers' "Traveling Blues," as well as this totally Woodsian bit of twelve-bar Smokeyana:
What's that long, black thing you've got
That looks like a great, long sword?
What's that long, black thing you've got
That looks like a great, long sword?
You better fan it away from here –
There ain't nobody wants to get bored.
It wouldn't have been authentic Smokey if he hadn't distinctly pronounced the "W" in "sword."
Smokey, Babe Fitsch, the front office, or whoever was back to those old public-domain tricks with "Keep on Truckin'" (based on "They Gotta Quit Kickin' My Dog Round") and "I'm Sorry" (cf. "One of Us Was Wrong"). Buddy Ray asserts that "Smokey never made any money out of his songs," but that didn't stop him from exploiting to the hilt his rep as a composer. When he liked songs, says Buddy, "he'd just go around and tell people he wrote 'em. You didn't know whether he wrote 'em or not." One gorgeous ballad Wood loved and played all the time, which he told Buddy he wrote, demonstrates both melodic taste and Smokeyesque irony: "Trust in Me."
Two numbers from this session, "There's Gonna Be No Me to Welcome You Home" and "The Doctor," remain unissued to date. Considering that "The Doctor" is well remembered by Smokey's friends as Georgia Tom Dorsey's notorious "Terrible Operation Blues" ("Take off those stockings, that silk underwear / The doctor's going to cut you, but he don't know where"), the company probably decided that Smokey's sword had done enough cutting for one date.
In his own inimitable way, Smokey maximized on his commercially rather unsuccessful records. Buddy Ray tells how he would go into a music store, identify himself as the famous Smokey Wood whose waxings they were handling, then walk out with an armful of instruments on credit (no money down), and leave town with them.
Smokey's search for the main chance was endless and relentless. "You'd walk down the street," says Buddy, "and Smokey was always watching the gutters all the time. He said he 'tuned in' on money. He'd say, 'I found a quarter the other day'. . .He was like a little boy, really."
"He was a good promoter," says Leo Raley. "He went into Muskogee one time. He was on a panic. He didn't own nothing. There was a little 100-watt radio station in Muskogee, and he got up there and hired out as a radio announcer – and a good one, $15 a week." After two or three days, Smokey decided his sartorial status should match his new position in the broadcasting world, and commenced a tour of the local dollar-down clothing shops. "He told them he worked up at the radio station and would like to buy a suit on time. . .pick out two or three suits of clothes. He'd be liable to be a radio announcer till payday come. And, shoot, the next time you heard from him, he'd be in San Diego."
Smokey's friendship, particularly in such matters as borrowed shirts and coats that somehow never returned, could be trying to his cronies, but it was still more so to his cronies' wives. Wood reputably was marriage at least once – his wife and daughter constitute another of the great as-yet-untraced Smokey legends. But "Woods didn't get along with his wife," according to J.R. Chatwell. "He had hard luck with his women."
"When I married J.R.," laughs Jewell Chatwell, "it was like marrying twins. Wherever we were, he'd stay for a month or two and have a good time and disappear the next day. We might not see him for another six months or a year – and then he'd show up with no clothes, no nothing. But he could always get a job because he was a fine piano player."
Red Raley considers Smokey a "much better piano player than Moon Mullican. He had a technique and he had jazz ideas. He had good ideas for phrasing. He did more one-finger stuff. He was much more nimble and he had more ideas about chord progressions." Red, like most musicians who knew Wood, points out how Smokey "idolized Fats Waller." Sock Underwood puts it succinctly: "There wasn't a hillbilly bone in his body."
Smokey could always get jobs, but holding them was a different story. One foray back to Oklahoma, accompanied by J.R., landed Smokey, perhaps inevitably, in the fold of another inveterate spotlight-grabber, Bob Wills. Just as inevitably, it whipped him out again. Bob delegated J.R. and Smokey to build a new band around his fiddling father, Uncle John Wills. It was like putting two hungry foxes in charge of a chicken coop. After two or three months of assorted escapades, the night came when Uncle John got so drunk he thought he was broadcasting. When his concerned son intervened, the old man said, "Quite, Bob, we're on the air." The next day Smokey and J.R. were hubbin' it back to Texas.
Wood's eccentricities constantly got him into scrapes and his musical abilities and charm – or talent as a con artist – constantly got him out. He and Buddy Ray toured on a carnival circuit in the East circa 1938, sleeping in a tent and playing for the girl shows. In Philadelphia he marched into a jazz club "looking like a bum," sat in on vibes, and knocked everybody out. During the next twenty years, he worked with Bill Mounce in Houston, with Adolph Hofner in San Antonio, with Cliff Bruner in Beaumont, with scores of pick-up or one-gig outfits – and always, of course, working a solo on piano and singing the blues.
The idea of Smokey "making it" in any commercial sense might seem to ridiculous to merit discussion, but in a music world that churned up Eden Ahbez, the Big Bopper, and Jerry Lee Lewis, anything must be considered possible. The nearest Smokey came to a national following was a brief stint with Spade Cooley in L.A., when the self-styled "King of Western Swing" was riding high in the wake of "Shame, Shame on You." Spade's complex arrangements, with acres of fiddles and harps was "just too much for him," says Buddy Ray. "He wasn't used to that big-time stuff. I think he was too weird for California, even."
Bill Mounce likes to tell of the time Smokey horn-swoggled Spade into opening and financing a school in L.A. for Wood to teach piano and vibes, his new instrument of choice. "When the rent came due, no Smokey. No school."
Somewhat later, Randall Raley was talking with Cooley. "He asked us, since we were from Texas, did we know a man named Smokey Wood? Smokey was playing piano for him, and came to him and told him that he was going to have to go back to Texas: 'The laws are looking for me. I killed my wife.' What was really the trouble," explains Raley "is that he was on weed." Cooley had "started quizzing. Well, he killed her with an ax. Cooley said, 'How did he come out? He said he had to go back to Texas for trial.' And I said, 'Hell, he ain't even married!'"
Returned from California and his brush with the big time, Smokey settled back into his favored routine; as Mounce described it, "drink beer, smoke pot, and take life easy." "He was the first hippie I ever saw!" exclaims Sock Underwood. Smokey loved camping and fishing, but, if we're to believe Buddy Ray's description, his technique would never pass muster with Field and Stream. "He'd get some little matchbox for his tackle box and a piece of string, and we'd go down to the river there in San Antonio. He had a little bitty hook and no bait, and he'd sit there on the bank and try and catch minnows."
Buddy recalls Smokey running a flea market near Waco "way back before there was flea markets." Ray also confirms that Wood was "quite a cook – Southern cooking, hams"; although Sock Underwood comments that he cheffed because "he didn't want to pay for food." At any rate, neither his cuisine nor his technique were consistently three-star. Fiddler Darrell Raley told his brother Randall about one incident, just after the war, when Wood was playing with a band, name forgotten, at a small Texas town. "He was high on weed, of course. Smokey had him a little fire built up there behind the bandstand, and he asked Darrel, 'You want something to eat?' He opened a can of chili and had him a little candle under it, and he was heating up that can of chili."
Another of Wood's semi-legendary talents was as a painter. "He was a good artist." Claims Ray. When Smokey was raising fighting cocks and one of his most prized chickens died, 'he thought he could get a good picture of it. He nailed it up on a wall in my brother's apartment – you, know, with the blood running down on the floor, and everything.
The chickens were an adjunct of Smokey's last home, a dilapidated farm structure "out by the river" near Meridian, Texas. He raised them to fight, says Jack Allen, a drummer and school band director who knew him well in his last years, but "once in a while he'd eat on." Sock Underwood gives a simple explanation for Wood's attraction to chicken-fighting: "The people who dug it had pot." He and a shifting passel of drifters infested the place, which says Ray, had "no windows or doors or nothing. They were all living there like a bunch of pigs, happy as they could be." The plants which Smokey nurtured in the shade of the decaying barn doubtless contributed substantially to their happiness.
Advancing age was not something Smokey Wood was prepared to acknowledge: behind the vibes or the keyboard, he was still the star. "He had a deal in a window of Sears, Roebuck store," says Ray. "One of those marathons. He played three, four days and nights before he fell out. People pitched him nickels and dimes. He took Benzedrine tablets to stay awake."
Smokey's last recording was done with a Dixieland outfit fronted by Houston reedman Joe Sanchez ("Lucille," vocal chorus by Smokey, b/w "Spirit of '76"). Jack Allen asserts that he was with Sanchez for seven years, and cites this as a refutation of the idea that Wood could never hold a gig, invariably walked off in a huff, and so forth. This remarkable longevity may be partly explained by Buddy Ray's memory of Sanchez: "He was kinda like Smokey."
The Houston Hipster-in-Exile never lost his zest for either muggles of the music that went with it. Hal Herbert says, "The last time I saw him, he had a goatee like old Red Norvo." He and Hal had a jam session, "just sax and vibes – played about fifteen hours in a laundry in Pasadena, Texas. I wish I'd taped it."
But "he drank every night in the club," says Jack Allen. "He just went to far with it." The result: Smokey, formerly a thin, if not cadaverous, fellow, grew to over 250 pounds. "Drink made him balloon out," says Sock Underwood, who jammed with him shortly before his death. "He couldn't conceive of the trash he had to play to." Sock just couldn't resist showing Smokey how he'd advanced since the "Come Be Cario Pennywinkle" days, and he blew him away with a rendition of "Misty" a la Errol Garner. At last, they were digging each other.
Privately, however, Sock was alarmed. "I told Bill Mounce, "Hey man, like this dude is too fat. God damn, looks like he's gonna explode, y'know?"
Mounce believes it was heart failure that ended Smokey Wood's life on January 6, 1975. At any rate, he wasn't the type of cat who would see a doctor. In the end, the union had to bury him.
"The most amazing thing happened at the funeral," according to Mounce. "He left some music in a trunk – 'Oh, How I Miss You Tonight,' and 'Sleepy Time Down South' . . . He wanted that played at the funeral. Well, there wasn't fifteen people there, I don't guess. I taken this music back to the lady in the back, and she said, 'Oh, I couldn't play music like that! I play church music.'
"I said 'Well, okay,' and I just left it there and went out in front. It started – and the swingingest organ music you ever heard started playing. I said to the secretary of the union, 'Man that ol' gal was sure putting me on, wasn't she?" But when Mounce went back to investigate, a stranger was sitting on the organ stool. "I said, 'What in the hell?' He said, 'Man, I'm up here just trying to sell an organ. I was listening to this lady, and she said, "Would you play this for me?" And I just sat down and started playing.
"I sold 'em a good organ, too."
Perhaps, up on Cloud Nine, this slick music sell job was being dug with an appreciative puff – and a snigger.
-Marty Pahls and Jeff Richardson
Side One
Modern Mountaineers
(Hal Herbert, clarinet, tenor sax, vocal on "Mississippi Sandman"; J.R. Chatwell, fiddle; Smokey Wood, piano, vocals; J.C. Way, steel guitar; Lefty Groves guitar, harmony vocal on "Everybody's Truckin'"; Johnny Thames, banjo; Rip Ramsey, bass; Texas Hotel, San Antonio, March 1, 1937)
1. Who Calls You Sweet Mama Now?
2. Everybody's Truckin'
3. Drifting Along
4. Dirty Dog Blues
5. Mississippi Sandman
6. Sweet Little Girl of Mine
7. Getting' That Low Down Swing
8. Loud Mouth
Side Two
Smokey Wood and the Wood Chips
(Clarence Clark, trumpet; George Uttenger, fiddle; Smokey Wood, piano, vocals; J.C. Way steel guitar; Gene Edmondson, guitar; unknown banjo; Lonnie Mitchel, bass; Dallas Athletic Club, Rooms D & B, Dallas, September 12, 1937)
1. Keep On Truckin'
2. I'm Sorry
4. Moonlight in Oklahoma
5. Wood's Traveling Blues
6. Lonely Heart of Mine
7. Carry Me Back to Virginny
8. Woodchip Blues
Reissue produced by Jeff Richardson.
Jacket illustrations by Ron Chan.
Art direction by Ted Sharpe.
Special thanks to: Jack Allen, Cliff Bruner, J.R. and Jewell Chatwell, Eugene Earl, Hal Herbert, Bob Healy, Fred Hoeptner, Bill Mounce, Bob Pinson, Buddy Ray, Leo and Red Raley, Sock Underwood, Glenn White and Jimmy Wyble
© Mutual Music Corporation 1982
254 Scott Street, San Francisco CA 94117