8:432 Victorian and Modernist Women's Poetry: 1840-1940
Florence Boos • florence-boos@uiowa.edu• phone: 335-0434 • office: 319 EPB hours: by appointment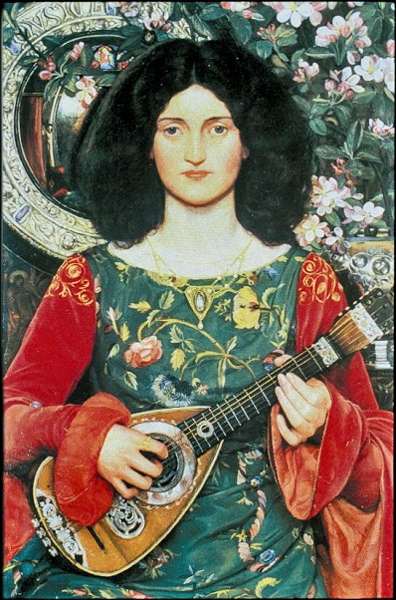 Melody Musica by Kate Bunce, 1895
Thirty years ago, only a handful of women poets of this period benefited from the republication and critical attention afforded scores of their male contemporaries. Critical studies and anthologies of Victorian women's poetry began to appear in the 1980s and 1990s, and similar recognition of their Edwardian and modernist sisters has followed. In this course, we will study these writers' formal poetics, their responses to Victorian and modernist literary ideals, and the effects of contemporary cultural debates about the nature of their craft.
We will begin with several weeks devoted to the work of Christina Rossetti, Elizabeth Barrett Browning, Michael Field and Edith Sitwell, then turn to lesser-known significant poets of the period, and give attention to its songs, regional ballads, Highland folk poems, and other forms of working-class and "popular poetry."
I will ask each student to choose a poet for an introductory presentation in class, from a list which may include Victorian poets Laetitia Landon, Emily Bronte, Eliza Cook, Augusta Webster, Mathilde Blind, Amy Levy, Jean Ingelow, Annie Matheson, Olive Custance, Alice Meynell, Caroline Norton, Emily Pfeiffer, Mary Coleridge, Mary Robinson, Rosamund Marriot Watson, Janet Hamilton and Ellen Johnston; and among their twentieth-century successors, Marion Angus, Violet Jacob, Frances Cornford, Emily Lawless, Charlotte Mew, Ruth Pitter, Anna Wickham, Ethel Carnie, Stevie Smith, Sarojini Naidu, Toru Dutt, Margaret Woods, Katherine Tynan, Sylvia Townsend Warner, Rosa Newmarch, Dorothy Wellesley, Eva Gore-Booth, Vita Sackville-West, Nancy Cunard, Iris Tree and Naomi Mitchison.
I will also ask students to post weekly comments on their readings, draft a seminar paper of twenty or more pages in length, and summarize briefly the contents of their papers in one of the course's final sessions.
Copyright © 2005 Florence Boos, The University of Iowa. All rights reserved.
Page updated May 18, 2010 12:01