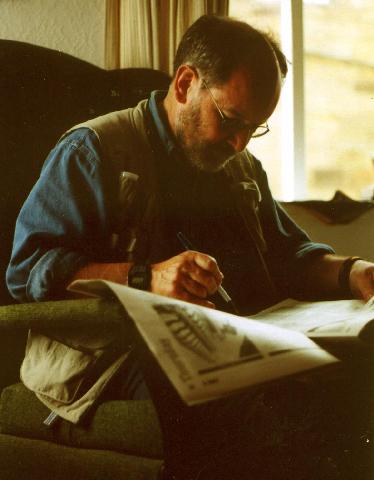 What is he reading....???? Mouse-over and click to find out. Order your own copy!!!
Steve Duck, MA (Oxon), PhD (Sheffield)
WINNER: OUTSTANDING MENTOR AWARD, UNIV OF IOWA 2001
WINNER: ROBERT J KIBLER AWARD, NATIONAL COMMUNICATION ASSOCIATION 2004 The Robert J. Kibler Memorial Award recognizes NCA members who have demonstrated dedication to excellence, commitment to the profession, concern for others, vision of what could be, acceptance of diversity, and forthrightness.
WINNER, COLLEGE OF LIBERAL ARTS AND SCIENCES HELEN KECHRIOTIS NELSON TEACHING AWARD, 2010,"in special recognition of career-long dedication to, and excellence in, teaching"
Daniel and Amy Starch Distinguished Research Chair, 151-BCSB, University of Iowa, Iowa City, IA 52242-1498, USA
Phone 319-335-0579 FAX: 319-335-2930
Dean's Administrative Fellow, College of Liberal Arts and Science, University of Iowa
Chair, Department of Rhetoric, University of Iowa
319-335-0186

[164-EPB]

Read The Basics of Communication 2nd Ed (Duck & McMahan), Sage, 2012 or more recent ones, Rethinking Relationships (2011) or Communication in Everyday Life 2nd Ed (2014)